Mobile Car Pro provides custom vehicle upfitting, asset tracking and driver assistance / safety systems to commercial operators large and small.   We source best-in-class products from leading manufacturers incorporating the latest technology.   Our customizations enhance employee safety, productivity and on-time performance.  Vehicle owners can locate and protect valuable assets with systems that reduce the incidence and severity of accidents, lower insurance rates and present a compelling return on investment.  Please contact Mobile Car Pro's commercial / fleet team at 
info@mobilecarpro.com
 to learn more.

COMMERCIAL VEHICLE UPFITTING
From cargo management systems (shelves, racks, bins, drawers, cases, etc.) to safety partitions and ladder racks, Mobile Car Pro has partnered with top tier manufacturers like RolaCase / RolaShelf to configure vehicles for maximum efficiency. Whether you choose one of our standard trade packages (electrical, plumbing / HVAC, or construction) or seek fully customized solutions, Mobile Car Pro can meet your every need. To explore all the available options, please see RolaCase / RolaShelf's online configurator.
Vented gas cabinets
Refrigerant tank holders
Partitions
Ladder racks
Bin packages
Tool boxes and cabinet kits
Interior floor & wall protection 
GPS FLEET TRACKING DEVICES
Mobile Car Pro features products from leading telematics companies like Track What Matters® so fleet owners can know exactly where their equipment is, how long it's been running, where and how fast it's been going, when its next service is due, and other key operating metrics. Information can be customized and delivered conveniently to office systems and smart phones through intuitive, user-friendly interfaces.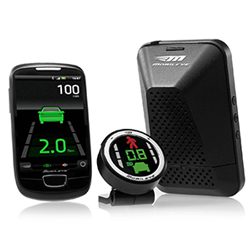 ADVANCED DRIVER ASSISTANCE SYSTEMS
Using sensors, cameras and computers, leading technology companies like Mobileye® have commercialized collision avoidance systems that warn of potential forward collisions with other vehicles, pedestrians or bicycles; headway monitoring systems that warn of unsafe distances between vehicles; radar-based blind spot detection systems; and parking sensors. Let Mobile Car Pro bring this safety technology to your drivers.
Mobile Car Pro installs camera systems that provide backup driving and/or lane watch guidance as well as wide-angle digital video recorders (DVRs) that preserve evidence of accidents, driving conditions, vandalism, etc. DVR systems are also available for monitoring driver or passenger behavior. These systems provide cost-effective protection for vehicle occupants, assets and owners.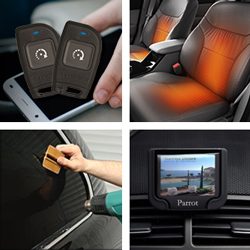 Mobile Car Pro also carries a full complement of other accessory products for the comfort, convenience and safety of commercial and fleet vehicles, including remote starters, heated & leather seat upgrades, Bluetooth connectivity, audio & video systems, window tint, among others. Contact our representative at info@mobilecarpro.com for complete details.