Guidepoint uses state-of-the-art GPS technology, which allows information to be sent back and forth between your vehicle and Guidepoint's Response Center.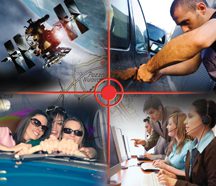 Guidepoint VIP: Family Safety & Security System
Online vehicle tracking from a smart phone or PC*
Speed & location alerts via text or email if the vehicle exceeds a set speed limit or leaves/enters a set geographic boundary*
Low Battery Alerts*
Vehicle Impact Protection offers proactive notification of "smash and grab" events*
Uses GPS technology to locate vehicle's exact coordinates
Security Fence notifies you of unauthorized vehicle movement
Transferable to your next vehicle
Nationwide coverage with 24/7 call center support
Optional OnCall Panic Button
*Included for first year of service – renewal after the first year is $149/year. Multiyear discounts apply. Stolen vehicle recovery features remain intact for the life of the vehicle so long as vehicle information is kept current with Guidepoint.