Too many cords and not enough plugs? Install a power inverter in your car!
Tired of not having enough power outlets in your vehicle to keep your phone charged, your GPS on, and your DVD/monitor combo playing? Change all that by adding additional 12-volt power outlets to your vehicle.
Ever plugged your phone into its charger in the car and…nothing? Car chargers that plug into auxiliary power outlets (formerly where your cigarette lighter was located) are notoriously unreliable. They don't last very long, the fuses burn out, the outlets become loose, and you're left stranded with a dead phone or GPS and a plug you can't walk into Starbucks to use for a quick charge up.
We can solve this problem by installing a 110 volt converter for your car.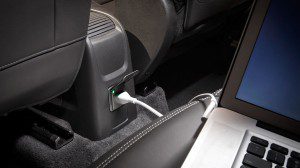 Starting at $299 installed at one of our locations
This outlet is directly wired into your system, completely hidden and the plug is conveniently located and accessible for any electronic device plug – from computers and tablets to cell phones and even crock pots!
Save money and only buy one type of charger for your device and use it in your home, at the office, and in the car!
This is a great addition for older vehicles that do not contain a USB charging system.