Are you struggling to get your garage door open when arriving home at night or during a storm? Do you have issues keeping your garage door openers working? Homelink may be the answer! Homelink is a system that connects wirelessly to your garage door opener(s) and increases your safety while negating the need for you to step out of your car to get the garage door open.

This 3-button system allows you to connect any RF-activated device – such as a gate, garage door, security system, or interior lighting and small appliances. These small units come in multiple colors and integrate nicely with any vehicle interior – you'll never be able to tell they didn't come installed at the factory.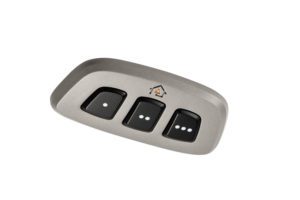 Our Homelink system is just $299
By adding on our convenient mobile installation we will not only install your system, we'll make sure it's working with your home's RF-signal devices!
Mobile Installation available for just $59 – we'll come to you!