Many of us seem to live in our cars these days. Between work, kids' sports, dance classes and other commitments a on-the-go lifestyle is inevitable. As parents, we understand the need to keep kids quiet and entertained as we're driving from point A to point B and stopping at all points in between.
The Mobile Car Pro headrest tablet mount system is a great way to snap the tablet in place for the kids and still have a portable unit to take inside. This alleviates multiple systems for multiple vehicles – just get a mount for each car and plug it in and go! Not only do these mounts hold the tablet securely, they charge and can connect to your in-car Bluetooth system!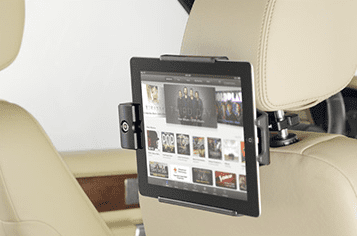 Starting at just $459 – Hide Wires and Charge when Docked!
All wires are hidden and the charging mechanism is hard wired into your car – that means no more cords criss crossing in an effort to reach the USB plug or auxiliary power source in the front seat!
Headrest Tablet Mount without Bluetooth Starting at $459.00
Headrest Tablet Mount with Bluetooth starting at $609.00
These mounting kits are vehicle specific, so give us a call to determine the best solution for your make and model. We also offer convenient and quick in-shop or mobile installation so adding this to your vehicle won't interfere with your busy day!

Contact us directly for a free consultation of the best solution for your vehicle. Remember, our Tablet Mounting Kits offer a 3-Year Warranty!